Step by step Bio Fiber treatment.

Wash the hair with Fiber Shampoo, massaging it softly. Rinse 100%. If necessary, repeat it. Remove the humidity with a towel

Apply Protein Recharge Step 2 all over the hair and let it act for 15 minutes, rinsing after.
Remove the humidity with a towel and apply a portion of Balance on the lengths and tips, let it act for 15 minutes and rinse completely after.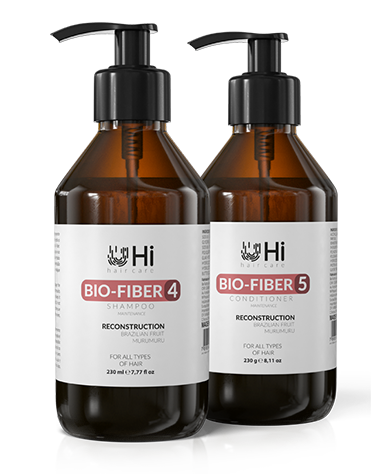 Soft cleaning, repairs the damages on hairs chemically treated, capillary fibre reconstruction and intense nourishment guaranteeing a daily healthy look.
Your hair always beautiful.
I'm able to recover the hair of my clients from the very first Bio Fiber application, this way I have more freedom and safety to do the colouring and bleaching jobs.
Bio Fiber Line surprised me! In just one application, it removes the elasticity from the hair completely after a bleaching!
I am very happy! Both treatment lines are wild cards for the most sold services at our salon! Just what I was looking for.
Register and receive our newsletter.
Hi wants to hear from you!
Questions, suggestions or feedback? Get in touch with us!
If you prefer, fill in the form and we will contact you!
Phone.:+1 (321) 946-5552
Email: contact@hihaircare.com