Step by step Waterproof treatment.

Wash the hair twice with Shampoo Deep Clean and let it act for 5 minutes on the second wash. Rinse 100%.

Remove the excess humidity from the hair. Apply the Smoothing Shampoo all over the hair and massage it without scrubbing the scalp until a dense foam appear.
OBS: Do not add water. Let it act for 20 minutes and rinse it abundantly.

Dry the hair with a towel and apply Smooth Touch on the length and tips. Let it act for 10 minutes and rinse it completely. Dry the hair 100%.

Iron the hair from 10 – 12 times.
At 230º for healthy hair. 180º-200º for damaged hair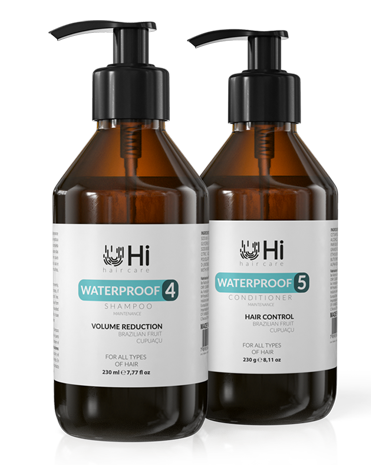 Waterproof Home Care Smooth hair every day.
Anti-frizz effect, anti-static, soft clean, promotes hydration, protection against oxidant processes and remineralization of the hair.
Your hair always beautiful.
My hair was super smooth, reduced the frizz and volume, the Waterproof line made my day to day easier.
Natural and sustainable products with an incredible performance! Apart from the lovely perfume it leaves on the hair, loved it!
The hair looked amazing! Just after the shampoo the hair is extremely soft. I can't use another brand. Really, it's well good!
Register and receive our newsletter.
Hi wants to hear from you!
Questions, suggestions or feedback? Get in touch with us!
If you prefer, fill in the form and we will contact you!
Phone.:+1 (321) 946-5552
Email: contact@hihaircare.com